What is the cost of WiFi Installation / Brisbane Wireless Network Solutions?
Prices Start From $1500
Brisbane WiFi Installation and WiFi Mesh Internet Hotspot Management System
Do you need WiFi installer? We are WiFi experts in supply and install of Wi-Fi solutions to span your motel, hotel, resort, caravan park, farm, mining operation, air port or zoo. This is known as a WiFi mesh internet hotspot management system. For this we can supply and install start of the art Ubiquiti equipment (e.g. UniFi) to suit your needs. We'd aim for 2.4GHz to have good penetration through walls, however 5GHz is an option for higher bandwidth when line of sight is not an issue.
If you can provide a map and the type of outer and inner walls for your location, we can provide a detailed design and analysis to give everyone an idea of the expected performance from room to room, or building to building.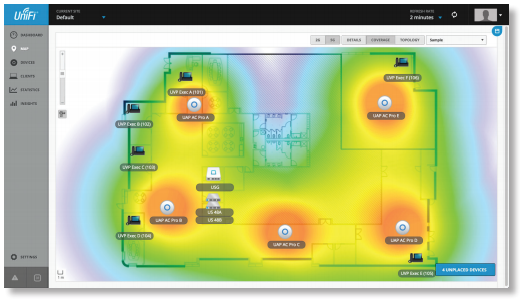 Joining Brisbane Buildings/Locations with Wireless Links
Perhaps your business is located in two buildings each side of town? Perhaps your business is made up of many buildings spread over a large area? In both these situations we can install Brisbane wireless links between the buildings, creating a local area network. This avoids multiple internet connections and/or risky/costly trenching.
We generally use 900MHz wireless transceivers, when we need to penetrate objects, go around corners, or go over a mountain. These systems provide about 150Mbps and can reach about 15km line of sight.
We generally use 5GHz wireless transceivers when we have line of sight to each target building. There are various systems for this. Dish based systems can provide 450Mbps and go up to about 25km line of sight. With non dish based systems provide about 150Mbps and can reach about 15km line of slight.
It should be well understood, that wireless and WiFi do not mean the same thing. WiFi is one of many protocols for wireless communication, and is typically limited to about 100m.
Information About Brisbane
Brisbane is the capital and most populous city of the Australian state of Queensland, as well as the third largest city in Australia, with a metropolitan population of just under 2.0 million. It is set close to the Pacific Ocean, and is situated beside the Brisbane River on plains between Moreton Bay and the Great Dividing Range in south-eastern Queensland.
The city is named in honour of Sir Thomas Brisbane who was Governor of New South Wales from 1821-1825. The original settlement grew from a harsh penal colony established at his direction in 1824 at Redcliffe, 28km to the north. The colony was moved to what is now the location of the Brisbane CBD in 1825, and free settlers were permitted from 1842. It was chosen as the capital when Queensland was proclaimed a separate colony, in 1859. The city developed slowly until after World War II, when it played a central role in the Allied campaign as the South West Pacific headquarters for General Douglas MacArthur.
More recently, Brisbane hosted the 1982 Commonwealth Games and 1988 World's Fair (Expo '88), and also the Goodwill Games in 2001.
Brisbane has a humid subtropical climate with hot, humid summers and dry, mild winters. From late Spring through to early Autumn, thunderstorms are common over the greater Brisbane area, with the more severe events accompanied by large damaging hail stones, torrential rain and destructive winds.