Gold Coast WiFi Installation and WiFi Mesh Internet Hotspot Management System
Do you need WiFi installer? We are WiFi experts in supply and install of Wi-Fi solutions to span your motel, hotel, resort, caravan park, farm, mining operation, air port or zoo. This is known as a WiFi mesh internet hotspot management system. For this we can supply and install start of the art Ubiquiti equipment (e.g. UniFi) to suit your needs. We'd aim for 2.4GHz to have good penetration through walls, however 5GHz is an option for higher bandwidth when line of sight is not an issue.
If you can provide a map and the type of outer and inner walls for your location, we can provide a detailed design and analysis to give everyone an idea of the expected performance from room to room, or building to building.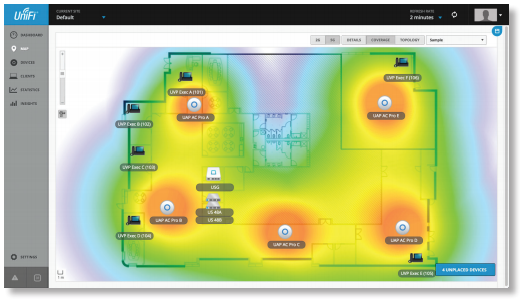 Joining Gold Coast Buildings/Locations with Wireless Links
Perhaps your business is located in two buildings each side of town? Perhaps your business is made up of many buildings spread over a large area? In both these situations we can install Gold Coast wireless links between the buildings, creating a local area network. This avoids multiple internet connections and/or risky/costly trenching.
We generally use 900MHz wireless transceivers, when we need to penetrate objects, go around corners, or go over a mountain. These systems provide about 150Mbps and can reach about 15km line of sight.
We generally use 5GHz wireless transceivers when we have line of sight to each target building. There are various systems for this. Dish based systems can provide 450Mbps and go up to about 25km line of sight. With non dish based systems provide about 150Mbps and can reach about 15km line of slight.
It should be well understood, that wireless and WiFi do not mean the same thing. WiFi is one of many protocols for wireless communication, and is typically limited to about 100m.
Information About Gold Coast
Once little more than a weekend surfing and fishing retreat for Brisbanites, the Gold Coast has come quite a way since a couple of entrepreneurs sat down in the 1960s and planned a canal resort on one of the finest stretches of golden beaches in the land.
Today the Gold Coast is a vibrant city of 400,000, a surf, sun and rainforest mecca for tourists from all over the world. It conjures up different images for different people, but whether you adore it or detest it, you can't ignore it. From its nightclubs to its beaches, from its towering apartment buildings to soaring rainforest, from its myriad golf courses to its theme parks, the Gold Coast is brash, it's young and it's exciting.
A major arterial road also links Broadbeach to Nerang and the rainforest rich hinterland. The entire Gold Coast-Tweed region is a haven for game, reef, beach, estuary and freshwater fishing.
Broadbeach is somewhat quieter than Surfers Paradise to the north, but boasts and excellent stretch of beach, dining and shopping options. Broadbeach Mall and Surf Parade are lined with trendy outdoor cafes and restaurants, and beachfront craft markets are held the first and third Sunday of every month. But probably the best known attraction at Broadbeach is Conrad Jupiters Casino, which thrives with gamblers 24 hours a day.